BD1410B Filling and Sealing Machine
Item No.: BD1410B
Widely used in low and high viscosity liquid such as fruit juice; jelly; yogurt; egg tofu, honey, sport gel; jam; laundry liquid; cooking oil.
Origin: Anhui, China
Model: BD1410B
HS Code: 842230
MOQ: 1
Driven Type: Pneumatic & electric power
Login to see price
INQUIRY
Description Video Selection reference Warranty & After-sales service
Applications
The irregular shape bag is a popular liquid packaging shape. It is also called pre-shaped bag, stick bag, sachet, stand-up pouch, spout pouch, bottle shape pouch, fruit shape pouch, etc. It is a novel form of customized flexible packaging, diverse modeling, reliable measurement, seal firm, easy to use, and low-cost packaging materials, etc.
BD1410B filling and sealing machine is widely used in liquid products such as fruit flavor drinks, energetic drinks, fruit juice; jelly, grass jelly, ice pop, ice lolly, popsicle; milk, mixing flavor yogurt; egg tofu, honey, sports gel; fruit jam, jam, tomato sauce, salad dressing; shampoo, laundry liquid, detergents; cooking oil. It suits to fill low and large viscosity liquid.
Features
It adopts SUS 304 stainless steel material and food-grade silicone tube; Delta PLC+ Delta touch screen+ CHINT electrical equipment+ Omron Power supply + Omron proximity switch + AirTAC Cylinder + WSNS Pneumatic Components.
SUS304 stainless steel and food-grade material.
Delta PLC system and English man-machine visualization operation interface (Delta touch screen).
Unique anti-drip valve and filling nozzles design, no leaking filling, and save cost.
Unique sanitary pneumatic piston pump design. It improves the filling volume control accuracy by less than ±1%.
Adjustable filling volume.
Unique sealing part design, seal suitable location, firm, safety.
Each features modular, easy maintenance.
Technical data
Model
BD1410B
Packing rate
500-3500 b/h
Filling nozzles
8
Workstation
2
Filling accuracy
≤±1%
Liquid temp.
≤95℃
Filling volume
See below
Piston pump
110ml
210ml
310ml
Once Filling
10~100ml
20~200ml
30~300ml
Max. Con. filling
3 times
3 times
3 times
Max. Filling
300ml
600ml
900ml
Sealed height
2mm
Power input
220V 50Hz
Power
0.8-1.6 Kw
Air Pressure
0.6-0.8 Mpa
Air Consumption
0.50-0.75 m3/min
Net weight
≈190 kg
Overall
1.2*0.7*1.1m3
Gross weight
≈240 kg
Packaging
1.3x0.9x1.3m3
Bag material
Composite PP; PE; PA; AL; NY; etc. pre-shaped bag


How to select which model suits your products
Please consider the following questions, which will help you choose a suitable model.
1. What is your product? It is better if there is a video showing the viscosity of the product.
2. What is the volume range (The Min. ml/g and Max. ml/g) of your bags/pouches?
3. What is the output per hour?
4. What is the power system standard in your factory? For example, this series filling machine needs AC 1 phase 220V 50Hz (standard) of the power system to drive. It also can be customized AC 1-phase-110V /240V & 50Hz /60Hz (Choose one).
5. Do you have the bag/spout pouch supplier and sample? We also can introduce our partners who are good at designing and manufacturing bags to you if you don't have or want more references.
Tips:
There are 3 factors that affect production speed:
a) your bag volume, bigger bag slower speed;
b) the viscosity of your product, higher viscosity slower speed;
c) the most important factor, the operator inserting bags speed and proficiency.
For example (the empirical data of output by a skilled operator):
BD1410/BD1410A/BD1410B2/BD1410C:
100ml→2,800-3,200 bph; 200ml→2,500-2,800 bph; 300ml→2,000-2,400 bph; 500ml→900-1,200 bph;
BD1410A2/BD1410B3:
100ml→3,100-3,700 bph; 200ml→2,800-3,300 bph; 300ml→2,300-2,900 bph; 500ml→1,200-1,700 bph.
Videos of all models are shown on the YouTube channel
The difference between the popular filling nozzle and the anti-drip filling valve & nozzle is shown on YouTube
https://youtu.be/HUMzbRfsfA4
The
BD1410
video shown on YouTube is
https://youtu.be/vktlqUsavOY
The
BD1410A
video shown on YouTube is
https://youtu.be/YbH5ORjG3e0
The
BD1410A2
video shown on YouTube is
https://youtu.be/UxMZ1sl6PNo
The
BD1410B
video shown on YouTube is
https://youtu.be/ttbnaDhMFTc
The
BD1410B2
video shown on YouTube is
https://youtu.be/4Wbm6L06BKA
The
BD1410B3
video shown on YouTube is
https://youtu.be/8bQBHCojyLM
The
BD1410C
video shown on YouTube is
https://youtu.be/MHr5ylvCtVU
BD with PVC Belt Conveyor
video shown on YouTube is
https://youtu.be/gh4--0DAx4A
We have our own patent of the anti-drip valve and filling nozzle.
Before determining the purchase, you can compare it with other similar machines. The anti-drip valve can suck the excess liquid back to the pipeline of the filling machine after filling bags, so as to avoid spraying to the outside of the bag and the machine. Then avoid polluting your machine. It also saves raw material costs and reduces cleaning work.
YouTube link: https://youtu.be/Q1rvDBXu6-g
Configuration contrast
| | | | | | | |
| --- | --- | --- | --- | --- | --- | --- |
| | | BD1410 | BD1410A | BD1410A2 | BD1410B2/C | BD1410B3 |
| 1 | Delta touch screen | Yes | Yes | Yes | Yes | Yes |
| 2 | Delta PLC system | Yes | Yes | Yes | Yes | Yes |
| 3 | CHINT electrical equipment | Yes | Yes | Yes | Yes | Yes |
| 4 | Omron Power supply | Yes | Yes | Yes | Yes | Yes |
| 5 | AirTAC air cylinder | Yes | Yes | Yes | Yes | Yes |
| 6 | Food-grade silicone hose | Yes | Yes | Yes | Yes | Yes |
| 7 | SUS304 Centrifugal pump | Yes | Yes | Yes | No | No |
| 8 | SUS304 piston pump | No | No | No | Yes | Yes |
| 9 | Pop filling nozzles | Yes | No | No | No | No |
| 10 | Anti-drip valve & filling nozzles | No | Yes | Yes | Yes | Yes |
| 10 | Low viscosity liquid | Yes | Yes | Yes | Yes | Yes |
| 11 | High viscosity liquid | No | No | No | Yes | Yes |
| 12 | Upgraded control system | No | No | Yes | No | Yes |
Critical size of the bag
We also can design filling nozzles for you according to your bag.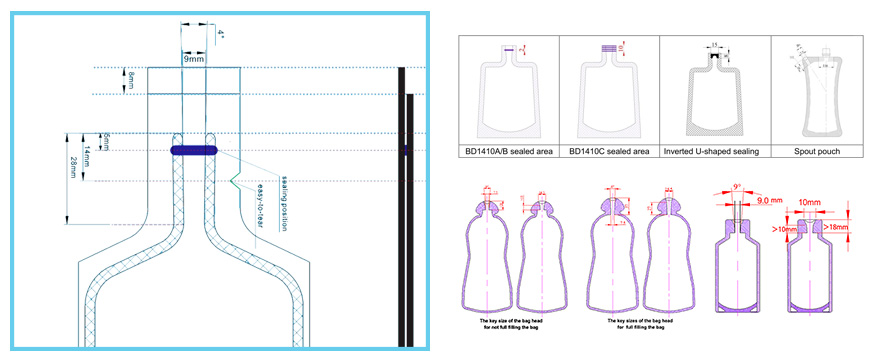 About the warranty and shelf life
A different model is equipped with corresponding free spare parts (Generally speaking, enough for one year) and tools.
It is a warranty period of 12 months after arriving at the buyer's factory, providing non-human damage.
The seller will send spare parts to the buyer for free if they were not caused by the unreasonable operation in the warranty period. Otherwise, the buyer pays for all costs.
Train buyer's technician in our factory is free. The round trip charges are paid by the buyer.
The seller sends engineers to the buyer's factory to install the machines and train the buyer's technicians if the buyer requires them.
The buyer needs to pay for all of the round-trip charges for the seller's engineers, including the visa fee, air tickets, the local accommodation, the food, the local traffic charges, and so on.
The buyer also needs to pay for each of the seller's engineers USD 100 per day as salary.
Including expenses and wages incurred due to the quarantine caused by the COVID-19.
Provide detailed and professional manuals and videos to show how to operate, install and maintain machines and construction drawings; before delivery, connect and debug all equipment according to the workshop layout, and paste the mark. Simultaneously shoot the video and save it to the U disk; provide services online via email, WhatsApp, and WeChat.
Operation Video of BD1410B
We supply a printed manual, a USB disk which was saved operation videos (show how to operate, repair, and maintain, etc.), and online service. You also can download it online.

01. How to Install the receiver groove
02. How to quick start BD1410B

03. Touch screen keys and functions
04. How to adjust filling volume
05. How to lubricate BD1410B
06. How to replace O-rings of anti-drip valve
07. How to replace seal pad
08. How to replace seal unit
09. How to remove and install piston pump
10. How to replace O-rings for reversing valve of piston pump
11. How to replace O-ring for reversing valve 2 end-face
12. How to replace temperature controller
13. How to check mushroom button
14. How to test secondary pressure
15. How to adjust bag clamper pressure
16. How to replace filling nozzle